Mexican exports to Canada increase 24% in six months.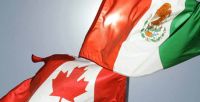 August 7, 2014
In the first six months of 2014, mexican exports to canada have increased 24% totaling 2.13 billion in goods. The main exports recorded are machinery, electronics and accesories related to sound systems totaling 789.3 million.
Mexico also exported 705.12 million in air, sea and land transportation related equipment.
Source: Manufactura